Why I will miss Mad Men
Published on Friday, 16 October 2015 13:10
Last Updated on 15 October 2015
Monica Costa
0 Comments
One of the most iconic, celebrated and influential TV series of recent years finally comes to an end this autumn with the release of Mad Men – The Final Season: Part 2 and Mad Men: The Complete Collection, both available on Blu-ray and DVD from 19th October 2015 of Lionsgate Home Entertainment. With a tear on my face I look at the series overall and the low key finale. Warning: spoilers.
The last season of Mad Men drills down on how iconic pieces of advertising were created (including the final Coca Cola flower power ad of the early Seventies) and finds closure for all main characters. My background is in marketing and advertising and for me every new episode of Mad Men is the equivalent of a super charger. I re-energise and I get lots of inspiration. Plus it satisfies my passion for the Sixties and Seventies as well as for vintage Fashion. I don't think there will ever be another series like Mad Men that has got so much entertainment and beautiful everything in one television series: cast, clothing, cars, locations, storytelling, romance, iconic pop art and major historical events.
Mad Men is not just for people in advertising. There's plenty to enjoy from romance, fashion, great dialogues and history. It's so watchable and intellectual at so many levels.
It's one of the best pieces of TV ever been made and I will terribly miss it. I knew  that at some point the executives would have to find a closure sometime but I dreaded that moment because it's so watchable and intellectual to a certain extent.
The Finale
The concluding part of Mad Men's seventh season sees Don Draper (Jon Hamm – Bridesmaids, TV's Black Mirror) resuming his womanising ways as a bachelor and encountering a waitress named Diana at a diner, convinced they have met before, even though she insists otherwise. Ken Cosgrove (Aaron Staton – Ray Donovan, August Rush) has taken over his father-in-law's position at Dow Chemical, subsequently turning the tables on Roger (John Slattery – Ant-Man, The Adjustment Bureau) and Pete (Vincent Kartheiser – In Time, Alpha Dog), much to their surprise. Sally (Kiernan Shipka – The Unbreakable Kimmy Schmidt) is at college and slowly becoming disillusioned with her parents, but after receiving distressing news from two people very close to her, she decides to follow another path.
Wrapping up a complex web of interlocking stories, the final part of Season Seven also delivers closure of a kind for fan favourites Peggy (Elisabeth Moss –      Top Of The Lake, On The Road), Betty (January Jones – Good Kill, X-Men: First Class) and Joan (Christina Hendricks – Lost River, God's Pocket), albeit with creator Matthew Weiner's trademark bittersweet notes.
The final scene 
'Mad Men' Finale: The Story Behind the Coke Ad
The Verdict
The very last series starts with salesman Freddie pitching an idea for a watch advert ('It's time to have a conversation'). It is a brilliant start as it sets the scene at the end of Sixties.
As the series hits the Seventies, the plot slows down. The characters' pace is set so we can get into the depth of their souls.
In the final episodes we go into a journey of discovery as Don suddenly leaves McCann Erickson at the peak of his career (as art director), what would normally be the ultimate end-goal for any advertising executive, and starts a aimless roadtrip. His ups and downs are incredibly painful watching but you slowly understand that it's a necessary evil. Ultimately Don reaches a flower power meditation group which helps him find the light out of the tunnel of his complicated existence.
This experience allows him to develop his creative brain even further and the show ends with the iconic Coca Cola TV advert and the message that his genius won't be wasted as he will go back to produce even greater marketing campaigns.
The Coca Cola ad from the early Seventies is in fact a very iconic one because it marks the change of times forever. Five years before that, black people and white people couldn't even be in an ad together.
Jon Hamm (who starred as Don Draper and also produced the show) said that Mad Men's final scene is 'a serene moment of understanding' and he added that 'the ambiguous relationship we have with advertising is part of why I did the show – in the pilot, my main character is selling cigarettes and we cheer when he figures out a new way to sell them … Why not end the show with the greatest commercial ever made?'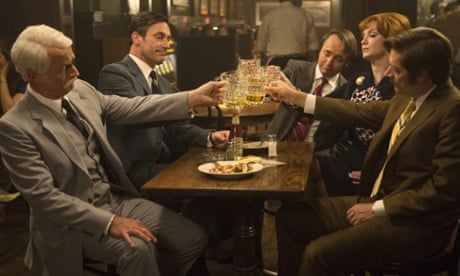 What I love about Mad Men is the accurate representation of fashion (particularly the curvy women and the colourful dresses), historical facts and events, details of the furniture and toys as well as cultural things like smoking and drinking in offices, in bed and confined spaces – it's such a pleasure watching so many details on screen.
Throughout the 7 series you feel immersed in the 50s, 60s and 70s as if you were there. Luckily I have the entire DVD collection and I  will be watching it over and over again.
The Collection Box-set details
With 15 Primetime Emmy Awards, four Golden Globes, two Screen Actors Guild Awards and two BAFTAs to the series' name, and having been cited as one of the top ten television shows of all time by the Writers Guild of America, there's no doubt as to the legacy Mad Men leaves behind. What's more, fans and completists will at last be able to get their hands on the Mad Men Complete Collection on Blu-ray and DVD as well as a very special Collector's Edition Blu-ray box set limited to 2,000 copies and featuring a host of extra materials designed to fully immerse even the biggest fan into a world they're already missing.
Mad Men Season 7 – Part 2 Blu-ray and DVD Details
Release date:                                                                                           19 October, 2015
Running time:                                                                                           45mins / episode (7 episodes)
Cert:                                                                                                             15
Special Features
Audio commentaries
Generation Boom featurette
Earth Day 1970 featurette
Unmarried Professional Women featurette
Laurel Canyon featurette
Mad Men Complete Collection Blu-ray and DVD Details
Release date:   19 October, 2015
Running time:  45mins / episode
Cert:  15

Special Features
Beautiful hard back 20-page book containing 23 Blu-ray Discs
16-Page episode guide
Reproduction of Don Draper's 'Why I'm Quitting Tobacco' letter
Letter announcing Sterling Cooper + Partners new logo
Sterling Cooper, Sterling Cooper Draper Pryce and Sterling Cooper + Partners headed notepaper
Six character art cards
Photo Montage art card
Sterling Cooper Draper Pryce office plan
My Mad Men Reading List
I am so crazy about this series that over the years I have read all possible books about the era and the TV show itself. Here are my favourite ones:
Why is vintage fashion back on trend? Why do we feel so drawn to fashion from the 50s and 60s?

Call me crazy but I am the kind of girl who feels really nostalgic about those amazing two decades after WW2 when people rebuilt their homes, their confidence, when there was so much optimism for the future, when there was very little technology and every new gadget was rather seen with scepticism to then being fully embraced by the masses, when advertising, as we know it today, was invented; when people took it easier and spent more time with the family;  when girls started getting crazy (and naked) at pop concerts (the Fab Four Beatles became a global sensation).
These might feel like cliches but the 50s and 60s were a Renaissance in modern times. I am a girl from the 70s and 80s and If I had a time machine, a nice De Loren supercar (like the one Michael J Fox used in Return to the Future) I would set the time to go back as a 20 year old woman in the early 60s.
One of my biggest passions is early 60s fashion. Over the years I have read a lot of books as well as watched films and TV series all involving one way or another 60s fashion. Here I am sharing all my sources of enjoyment with regards to vintage fashion.
Why do we love all things vintage? Never before Mad Men-style floral frocks with belted waists from the late 1950s have been so popular. Mad Men is not just an amazingly looking catwalk in a TV series. It has made us realise that vintage fashion is classic and trendy at the same time.  More importantly, it is so fascinating for us now as used as we are to mass-produced high-street fashion or cheap 'made in China'  reproductions. The uniqueness of custom-made clothing from the 50s and 60s has a huge nostalgic appeal these days. The quality of the 50s and 60s garments is much better than the clothes made today.  Fashion history repeats itself and it's no surprise that current fashion is influenced by vintage fashion trends.  But I have the feeling that this is here to stay rather than being just a phase. Vintage fashion styles will probably be integrated into new trends all the times and will keep inspiring designers from all over the world.
THE FASHION FILE: Advice, Tips and Inspiration from the Costume Designer of 'Mad Men' is the ultimate insight into the fashion choices behind the show. 
Emmy-Award winning costume designer Janie Bryant offers readers a peek into the dressing room of Mad Men, revealing the design process behind the various characters' looks and showing every woman how to find her own leading lady style – whether it's vintage, modern or bohemian. Bryant offers advice to ensure that a woman's clothes convey her personality. She covers everything from where to find incredible vintage clothing and accessories to how to pair those authentic pieces with modern shoes and jeans. And just so the ladies don't leave their men behind there's even a section on making them look a little more Don Draper-dashing.
Mad Women: The Other Side of Life on Madison Avenue in the '60s and Beyond
Fans of the show Mad Men are dying to know how accurate it is. Was there really that much sex at the office? Were there really three-martini lunches? Were women really second-class citizens? Jane Mass says the answer to all three questions is unequivocally "yes." Her book, based on her own experiences and countless interviews with her peers, is a fascinating tell-all account of life as an ad woman in the male jungle of Madison Avenue.
MAD MEN: THE ILLUSTRATED WORLD is an engaging celebration of the life and times of the 'mad men' of Madison Avenue in the early 1960s. This book is by turns funny, kitschy, sophisticated and wry, and this full colour miscelleny is both a memento and a stand-alone salute to the time of slim suits, prosperity, cocktails, and the golden age of advertising. With chapters on the office, the home, fashion and beauty, mainstream and counterculture, travel and rainy day activities, this all-encompassing anthology is the only companion a fan will ever need. The only official MAD MEN publication, this tie-in to the wildly popular and cult television series captures the spirit of the era as it might be imagined on one of Sal Ramano's storyboards.

Mad Men and Philosophy: Nothing Is as It Seems
Mad Men is unquestionably one of the most stylish, sexy, and irresistible shows on television. But the series becomes even more absorbing once you dig deeper into its portrayal of the changing social and political mores of 1960s America and explore the philosophical complexities of its key characters and themes. This book brings the thinking of some of history's most powerful minds to bear on the world of Don Draper and the Sterling Cooper ad agency. You'll gain insights into a host of compelling Mad Men questions and issues, including happiness, freedom, authenticity, feminism, Don Draper's identity, and more. Mad Men and Philosophy will give Mad Men fans everywhere something new to talk about around the water cooler.
Monica Costa founded London Mums in September 2006 after her son Diego's birth together with a group of mothers who felt the need of meeting up regularly to share the challenges and joys of motherhood in metropolitan and multicultural London. London Mums is the FREE and independent peer support group for mums and mumpreneurs based in London https://londonmumsmagazine.com and you can connect on Twitter @londonmums
Facebook Comments