Film Review: Where Hands Touch out on 10th May
Published on Friday, 10 May 2019 09:07
Last Updated on 09 May 2019
IsaacMartin
0 Comments
Writer/director Amma Asante's new film Where Hands Touch takes an intimate look at what it means to be a person of colour in times of political conflict, what it is to be young and in love, and the lives of mixed-race people in Nazi Germany – a subject woefully ignored by most history books.
The trailer
The verdict
By now it's fair to say that writer/director Amma Asante is on a crusade. Since her 2013 directorial debut she has been ensuring that people of colour are given their proper place in history. 2013's Belle was a biopic of Dido Elizabeth Belle, a mixed-race noblewoman who lived in in the late 1700s. Then came 2016's A United Kingdom, about the interracial relationship between Seretse Khama (heir to the throne, and later president, of Botswana) and Ruth Wilson, a white British woman. Now we have Where Hands Touch – the story of a mixed-race girl in Nazi Germany.
Unlike Amma Asante's previous two films this one is fictional, but it's so richly detailed that it might as well be a true story, and it does occasionally (and unfortunately) get lost in unnecessary historical detail. The story centres on Leyna, a German mixed-race girl, as well as her white mother and brother as they move from to Berlin in 1944. There Leyna meets Lutz, a boy who's father is a high-ranking SS officer, who can't keep his eyes off of her. The film traces their romance and everything it impacts; her mother's attempts to keep her children safe, her younger brother's indoctrination into the Hitler Youth and Lutz's father's attempts to keep his son out of the war.
Despite the Romeo & Juliet setup the film genuinely surprises with how it plays out; it constantly defies expectations by shying away from Hollywood tropes and tackling the realities of Nazi Germany in an unflinching and admirably matter-of-fact way. There are scenes which are perfect for the classroom, you can practically see the exact frame where a teacher would pause the film to discuss the issue explored in the film; forging identity cards, the treatment of minorities in Nazi Germany, the Gestapo, the Hitler Youth. However, the film doesn't end when you expect it to; we see far beyond the tragically doomed relationship of Leyna and Lutz and as the film develops, so too does its examination of the world. It moves away from the dry historical facts to real life – not only is there swearing, but also sex, nudity and violence.
This film, whilst targeted at teens, does not talk down to them. There is an honesty in the way this film is made which one does not often find in teen movies. Certainly not in the average Hollywood film. This film felt much more like a YA novel, it belongs in the canon of Malorie Blackman's Noughts and Crosses, Markus Zusak's The Book Thief, Michelle Magorian's Goodnight, Mr. Tom, or John Green's The Fault in Our Stars.
Beyond the history lesson the film also examines themes of identity which are relevant for teens to this day. The film focuses as much on Lutz as it does on Leyna, and there is plenty of time devoted to her mother, her younger brother and Lutz's father. All these characters (and others) are fully fleshed out, which only adds to the challenging nature of its subject matter. It's much harder to hate someone when you understand them. This is because the central theme of this film is not about how hard life was for people of colour in Nazi Germany, but instead the age-old struggle of how you perceive yourself vs how your are perceived by everyone else.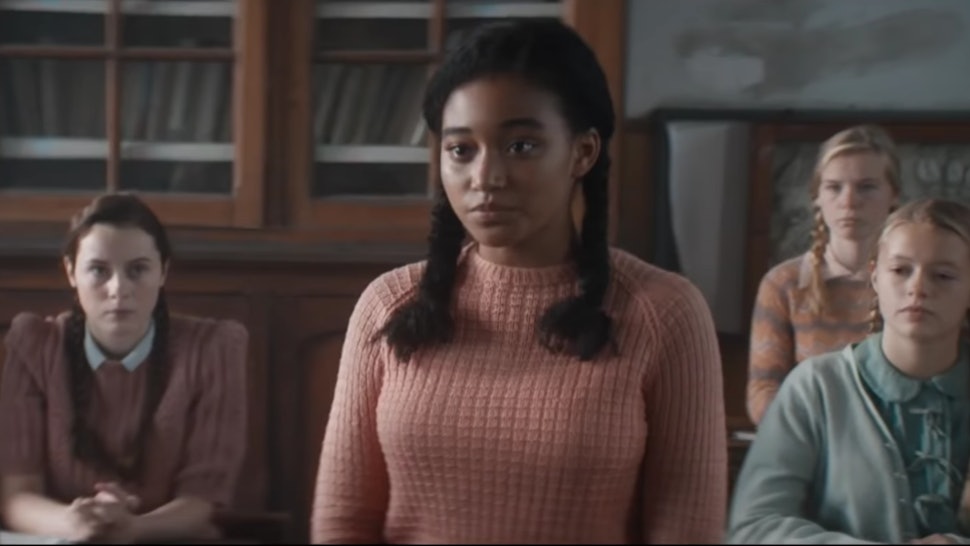 What does ethnicity have to do with nationality? How do you make yourself belong in a place where nobody wants you? What does it feel like to have your own personal identity be a challenge to your own sense of national identity? These are not easy questions, but they are important. Especially for teenagers, and especially for anyone who belongs to any kind of minority, in any country, in any age.
Thankfully Where Hands Touch is elevated from a history lesson and lecture about identity politics by the incredible performances of its cast, as well as the thoughtful direction of Asante. The performances she draws out from her cast are very impressive, from the veteran Christopher Eccleston to the up-and-coming Amandla Stenberg and George MacKay (Leyna and Lutz, respectively) to the young Tom Sweet, who plays the younger brother.
My main criticism is that it does drag a little. Maybe that's because Where Hands Touch kept defying my expectations and didn't end where I expected, or maybe it's because Amma Asante relies too heavily on the historical details which slows down the drama too much. Don't let that stop you from seeing it, though, it is an important film, definitely worth a watch, just be prepared to have a serious conversation afterwards.
The rating: 7/10
I have been an avid movie fan for as long as I can remember, from the swash-buckling excitement of Indiana Jones and The Princess Bride to the drama of The Little Princess and The Iron Giant, movies are able to inspire younger audiences, teach them about the world and show them things they've never dreamed of before. I continue to be wowed by children's cinema today, from movies like Moana and A Monster Calls to The Greatest Showman we live in exciting times for family-oriented cinema, and look forward to exploring it with you.
Facebook Comments